CYSAT '23 is the first conference in Europe dedicated to satellite and space industry cyber security. It took place from 26 to 27 April 2023 and brought together key players from the European space industry to share challenges and solutions related to cyber risks and cyber security in space.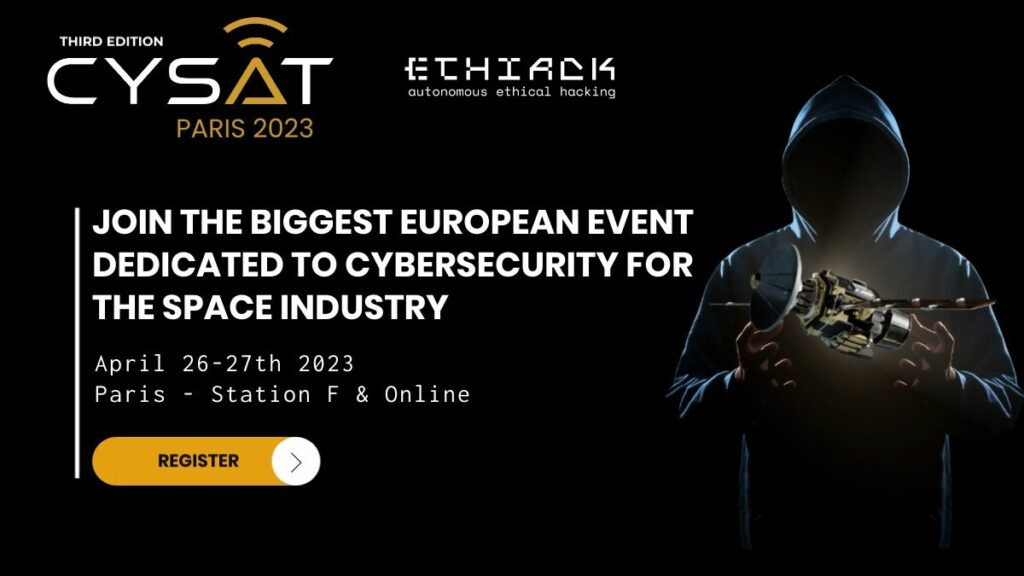 Faced with cybersecurity challenges and the growing importance of data protection in space, it is crucial to bring together communities of cybersecurity experts to build a European ecosystem capable of addressing current and future industry challenges.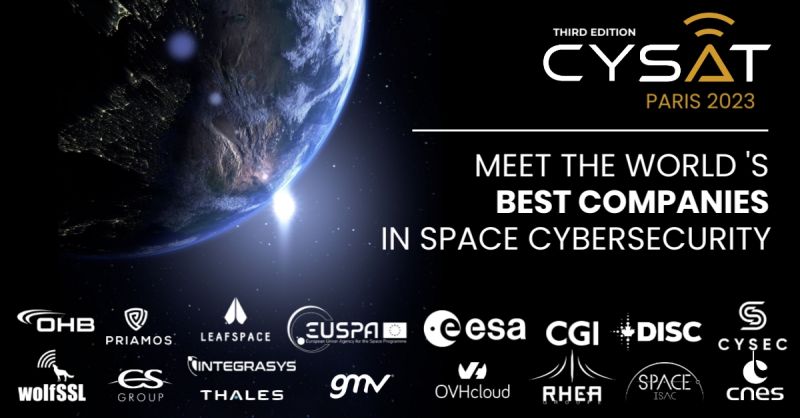 Last years' event saw more than 450 space specialists, decision-makers and experts come together. In its third year, CYSAT will highlight Europe's cybersecurity capabilities and solutions dedicated to space from both a technological and geostrategic perspective.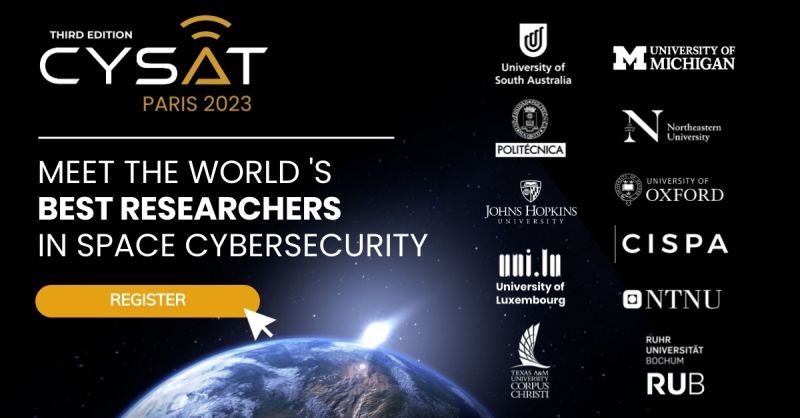 What you will watch:
An exclusive testimony by Colonel Oleksandr Potii, Deputy Chairman of the State Service of Special Communications and Information Protection of Ukraine. A year since the cyber-attack on satellite network KA-SAT, Potii will reflect on what lessons can be learned from this attack.
Talks and keynotes from renowned industry experts, including Philippe Baptiste, President of CNES, Jean-Marc Nasr, Vice-President Space at Airbus Defence and Space, Massimo Mercati, Head of Security at ESA and Greg Wyler, founder of E-Space.
Workshops and demonstrations highlighting the know-how of the space industry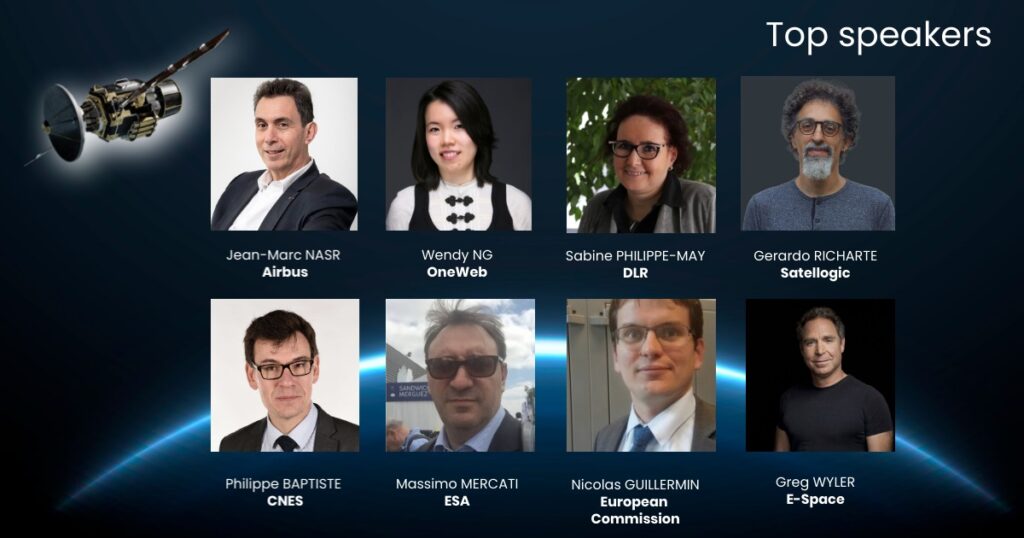 To find the full programme and more information on the event, visit: https://cysat.eu/
You will find below the full recording of the 2 days of conferences with all the speakers.
CYSAT, the only European event about cybersecurity in the space industry
CYSAT is the annual rendez-vous of all professionals at the crossroad between space and cyber. The 3rd edition will be taking place in Paris on April 26-27th at Station F and online.
CYSAT 2023
Here is the final retrospective of CYSAT 2023. We hope you enjoyed this third edition, which took place in Paris on April 26 and 27, 2023, and we hope to see even more of you in 2024.
Let's continue to raise awareness about cybersecurity in space !
Opening of CYSAT 2023 with Lionel Suchet from CNES
Space is the new frontier of cybersecurity. The growing amount of space data collected and processed in the cloud makes cybersecurity a fundamental topic. CYSAT 2023, as the biggest European event dedicated to space cybersecurity, paved the way to a whole new set of reflexions within the European context.
As the COO of CNES, the French government space agency, Lionel Suchet was appointed Director of Innovation, Applications and Science. This new directorate (DIA) is tasked with supporting the interests, requirements and challenges of all potential users of space data and missions, and planning and proposing CNES's future orbital systems with a view to nurturing creativity and driving innovation.
CYSAT 2023: Fireside chat with Greg Wyler, E Space
Greg Wyler is Founder, CEO and Chief Architect at E-Space, a global space company focused on bridging Earth and space with the world's most sustainable low Earth orbit (LEO) satellite network.
With E-Space, Greg has re-imagined LEO satellite system design, manufacturing, economics and service delivery to overcome the limitations associated with legacy LEO systems. Greg is a recognized technology entrepreneur, engineer and visionary, with a proven track record of creating and growing innovative space companies.
In 2007, he founded O3b Networks, followed by starting OneWeb in 2012. Both have proven successful, leveraging satellite technology to fuel global connectivity missions. Greg holds more than 35 patents related to the design, implementation and use of satellite communications technology.
Hack CYSAT 2023 – World premiere: hacking and recovery of a flying satellite
For the third edition of CYSAT, the biggest European event entirely dedicated to cybersecurity for the space industry, taking place on 26-27 April 2023 at Station F in Paris, the European Space Agency (ESA) set up a satellite test bench to simulate attempts to seize control of OPS-SAT, a nanosatellite operated by the agency for demonstration purposes.
Thales's offensive cybersecurity team stepped up to the challenge, identifying vulnerabilities that could enable malicious actors to disrupt operation of the ESA satellite.
Thanks to ESA and Thales for their hacking demonstration and involvement to raise awareness on cybersecurity risks in the space industry.
David Evans, ESA, OPS-SAT Space Lab Manager
Guillaume Teissier, Arnaud Gatignol, Quentin Minster, Brian Jouannic, Thales, Security experts
CYSAT 2023: Live from Kyiv with General Oleksandr Potii
Live from Kyiv with General Oleksandr Potii, Deputy Chairman of the State Service of Special Communications and Information Protection of Ukraine
CYSAT 2023: Panel « Protection of space systems in the EU »
Panel moderated by Mathieu Bailly, Director of CYSAT and VP space at CYSEC
Guillaume de La Brosse, Head of Unit – Innovation, start-ups, economics at European Commision DG-DEFIS : Protection of space systems in the EU : a paradigm shift ?
Rodrigo da Costa, executive director of EUSPA : EUSPA and the security of the EU Space Program
Claude Schanet, Deputy Chair Security Accreditation Board at EUSPA : EUSP SAB – EU Space programme's security accreditation authority
CYSAT 2023: Panel « Information sharing and collective intelligence for the global space industry »
Panel moderated by Florent Rizzo, CEO of CyberinFlight
Erin Miller, Executive Director at SPACE-ISAC
Paul Varela, Security engineer at EUSPA
Andre Adelsbach, VP Group Information and Cyber Security of SES
Samuel Visner, Technical Fellow at MITRE & Vice-chair at Space-ISAC
CYSAT 2023: Panel « Overview of cybersecurity challenges for the IRIS2 constellation »
Panel moderated by Mathieu Bailly, Director of CYSAT and VP Space at CYSEC
Nicolas Guillermin, EU Satellite Navigation Programmes Manager at DG for Defence Industry and Space at European Commission
Christophe Allemand, 4S Strategic Programme Line Manager at ESA
Massimo Mercati, Head of Security Office at ESA
CYSAT 2023: Panel « What are the cybersecurity challenges for the IRIS2 constellation »
Panel moderated by Badia Belkouchi, Head of digital and data at Euroconsult
Yacine Felk, COO and co-founder of CYSEC
Alain Yvon, Head of cybersecurity laboratory at Thales SIX
Etienne Gérain, Information security expert at Priamos
Walter Ballheimer, CEO of Reflex Aerospace
Bertrand Leconte, Ground segment security expert at Airbus Defense and Space
CYSAT 2023: Keynote « The Risk governance model for supply chain cybersecurity in space »
Keynote by Rhea Group :
Matteo Merialdo, director cybersecurity products and engineering
Ana-Maria Matejic, director cybersecurity services and operations
CYSAT 2023: Keynote « The war in Ukraine from a space cybersecurity perspective »
Keynote presented by Clément Poirier, Resident fellow at ESPI
CYSAT 2023: Keynote « The approaches taken by the German Space Agency »
Keynote by Sabine Philip-May, Head of Product Assurance & Project support department at DLR
A propos de CYSEC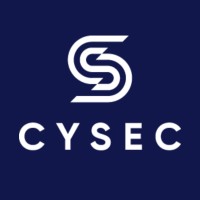 CYSEC is a Franco-Swiss cybersecurity company that is a pioneer in the protection of satellites and data collected and transmitted in space.
The company has just launched two security products in 2023, ARCA SATCOM dedicated to the satellite internet market, and ARCA SATLINK dedicated to constellation operators.
For more information : www.cysec.com