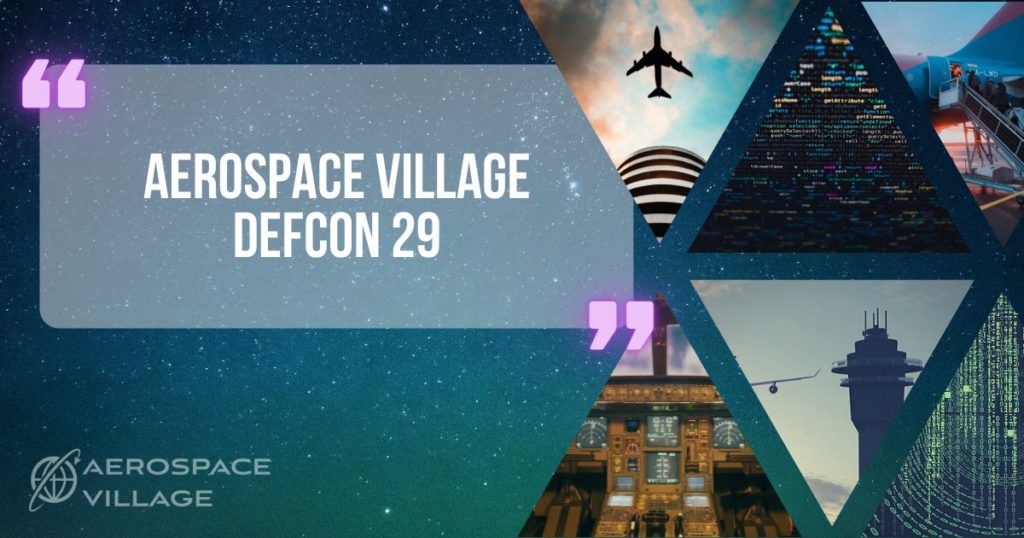 DEF CON Aerospace Village is a researcher led, non-profit whose mission is to build a diverse community focussed on the security of everything from airports, air traffic management, aircraft and space.
The Challenge: The aerospace ecosystem is a cornerstone of the global infrastructure and economy. While passenger safety is at an all-time high, the increasing adoption of connected technologies exposes aircraft, airports, satellites, and the interdependent aerospace ecosystem to new types of risks. The consequences of a cybersecurity failure in a ground, air, or space-based system can impact human life and public safety; a crisis of confidence in the trustworthiness of air travel and space operations can undermine economic and (inter)national security.
The Aerospace Village is a unique community that bridges the gap across security researchers, the aerospace industry, public sector, academia and all.
At Virtual DEF CON 29 this year the Aerospace Village is full of talks, virtual workshops and CTFs that will have something for you to get involved in irrespective of your experience level, or what bit of the aerospace world you are interested in.
In this article, we will focus on the space cybersecurity videos recorded at the DEF CON 29 Aerospace Village held on 6-7 August in Las Vegas. All sessions were online and hybrid.
Deep Space Networking 2021 Workshops
This training session includes three Wireshark analysis sessions of Green Data transmission (with data loss), simple Red Data transmission, and Red Data transmission/retransmission after data loss.
To know more about these workshops and to download file, check here.
Part I: Ground Control to Major Licklider: Analyzing LTP
Part II: Build an LTP-Analysis Wireshark Profile
Part III: An Outage in Space — Take the LTP Wireshark Challenge
AIAA Cubesat Hacking Workshop
AIAA CubeSat Hacking Workshop is learning laboratory intended to demonstrate satellite operations cybersecurity defense and hacking principals and techniques to participants of all levels of cybersecurity proficiency, through hand-on instruction conducted by space systems experts. Participants will learn and practice hacking techniques on a simulated, remotely accessible CUBESAT system.
To know more about these workshops and to download file, check here.
Workshop 01 Section 1 : CubeSAT 101
AIAA CubeSat Hacking Workshop 02 Section 2 : Attack Methodology
AIAA CubeSat Hacking Workshop 03 : The CubeSAT User Interface
AIAA CubeSat Hacking Workshop 04 : Cyberattack Scenario 1
AIAA CubeSat Hacking Workshop 05 : Cyberattack Scenario 2 Prelude
AIAA CubeSat Hacking Workshop 06 : Cyberattack Scenario 2
AIAA CubeSat Hacking Workshop 07 : Cyberattack Scenario 3
AIAA CubeSat Hacking Workshop 08 : After the Cyber Attack
Others videos
Fuzzing NASA Core Flight System Software
Lost In Space: No one Can Hear Your Breach Choose Wisely
Unboxing the Spacecraft Software BlackBox Hunting for Vulnerabilities
Threat Modeling for Space Hitchhikers
Hack A Sat 2 – The Good, the Bad and the Cyber Secure
Official DC29 Aerospace Village schedule is available here
Join the Aerospace Village Discord server and follow us on Twitter @SecureAerospace for latest Aerospace Village DC29 updates!