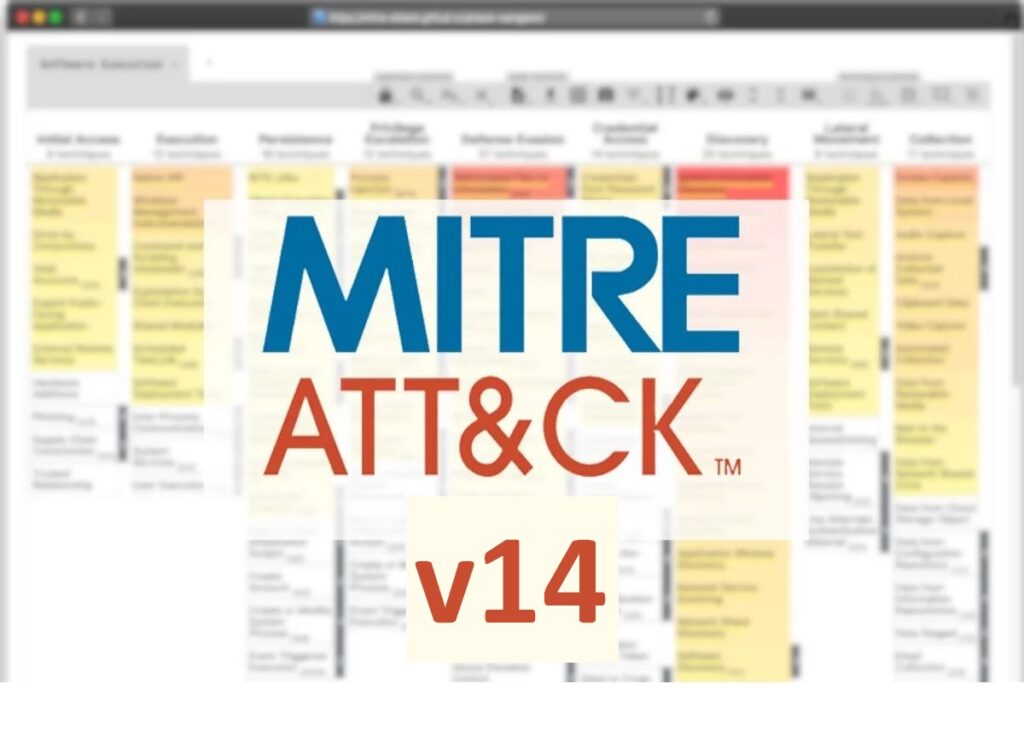 🔥 On 31 October 2023, the MITRE Corporation realeased ATT&CK v14, the new version of its framework.
This new version includes significant improvements to Detections, ICS, Mobile.
In this article, we summarize the biggest changes : and will go through more details.
🔥 Find below the Key Highlights of ATT&CK v14
👉 ATT&CK Version 14 contains 760 Pieces of Software, 143 Groups, and 24 Campaigns. Broken out by domain:
✔️ Enterprise: 201 Techniques, 424 Sub-Techniques, 141 Groups, 648 Pieces of Software, 23 Campaigns, 43 Mitigations, and 109 Data Sources
✔️ Mobile: 72 Techniques, 42 Sub-Techniques, 8 Groups, 108 Pieces of Software, 1 Campaign, 12 Mitigations, and 15 Data Sources
✔️ ICS: 81 Techniques, 13 Groups, 21 Pieces of Software, 52 Mitigations, 3 Campaigns, 14 Assets, and 34 Data Sources
👉 ATT&CK v14 features 14 inaugural Assets (Assets represent the devices and systems commonly found within Industrial Control System environments), representing the primary functional components of the systems associated with the ICS domain. These Asset pages include in-depth definitions, meticulous mappings to techniques, and a list of related Assets.
🔥 MITRE has published a blog post detailing some of the major updates in ATT&CK v14, as well as release notes listing new techniques and version changes. A detailed changelog is also available.
More about MITRE ATT&CK framework
The MITRE ATT&CK framework is a globally recognized knowledge base and methodology for understanding, organizing, and classifying cyber threats and tactics used by adversaries during different stages of a cyber attack. ATT&CK stands for Adversarial Tactics, Techniques, and Common Knowledge.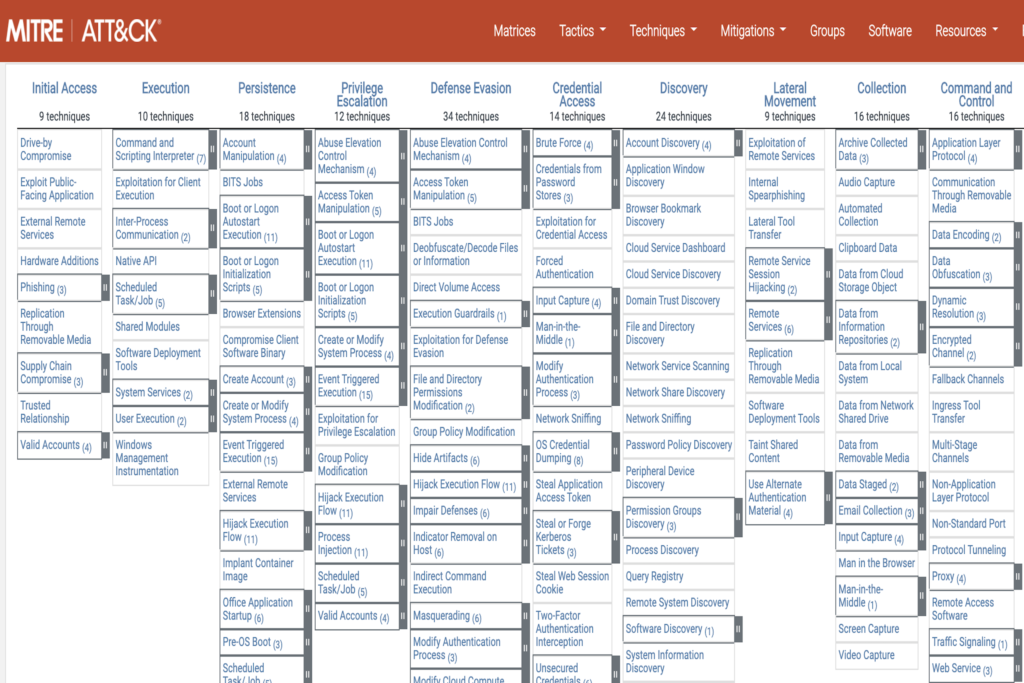 The framework was developed by MITRE, a not-for-profit organization that operates federally funded research and development centers (FFRDCs) to address various challenges faced by the U.S. government. However, the framework has gained widespread adoption in the cybersecurity community and is used by organizations around the world.
The MITRE ATT&CK framework provides a comprehensive model that describes the entire lifecycle of a cyber attack, from initial reconnaissance and weaponization to lateral movement, data exfiltration, and impact. It consists of a matrix that outlines various tactics and techniques employed by adversaries, along with information on the platforms they target (e.g., Windows, macOS, Linux) and the types of software they use.
The framework is organized into several categories, including Initial Access, Execution, Persistence, Privilege Escalation, Defense Evasion, Credential Access, Discovery, Lateral Movement, Collection, Exfiltration, and Impact. Each category is further divided into specific techniques and sub-techniques that adversaries may employ.
For each technique, the framework provides detailed information on how it works, the potential impact, and real-world examples of its usage by known threat actors. This knowledge base allows organizations to better understand the tactics and techniques employed by adversaries and assists in building effective defensive strategies and improving incident response capabilities.
By utilizing the MITRE ATT&CK framework, organizations can map observed adversary behaviors to specific techniques, identify security gaps, prioritize defenses, develop threat intelligence, and share information with the broader cybersecurity community. The framework serves as a common language and reference point for cybersecurity professionals, enabling them to collaborate and exchange knowledge on emerging threats and effective defense strategies.
Overall, the MITRE ATT&CK framework plays a crucial role in enhancing cybersecurity awareness and readiness, facilitating the development of proactive defense measures, and improving the overall resilience of organizations against cyber attacks.
Go to the MITRE ATT&CK framework here.