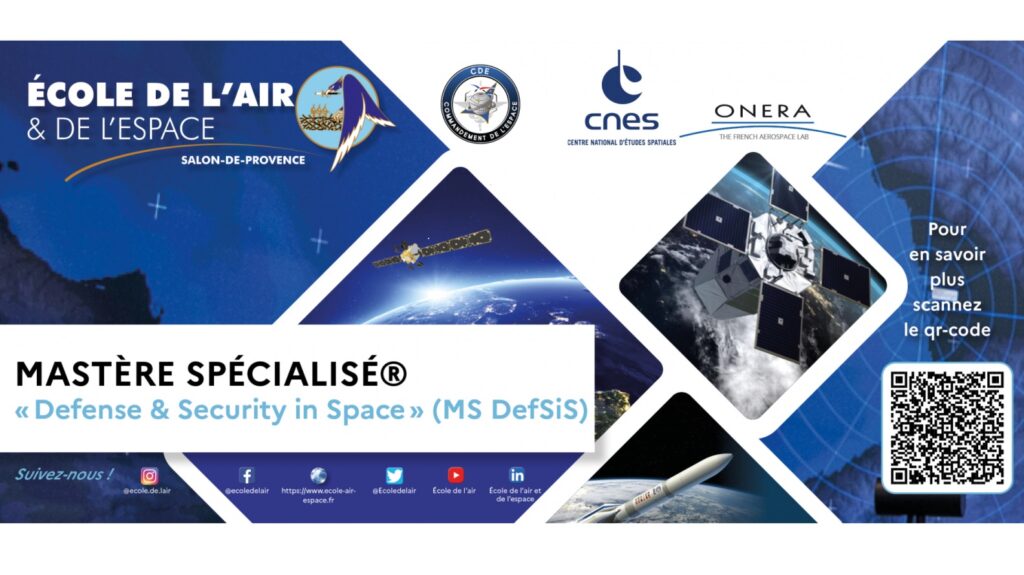 Depuis plusieurs années, l'espace connaît un développement particulièrement important, que ce soit en lien avec des applications de la vie quotidienne (télécommunication, navigation & positionnement, transfert bancaire, observation de la Terre, …) ou avec les opérations militaires. Cette forte croissance ne va pas sans soulever des questions liées à la sécurité.
Pour vous en convaincre, nous avons écris plusieurs articles sur le sujet dont en voici quelques-uns :
L'École de l'air et de l'espace (EAE), en partenariat avec le Commandement de l'Espace (CDE), le Centre national d'études spatiales (CNES) et l'Office national d'études et de recherches aérospatiales (ONERA) vous propose un Mastère Spécialis鮫 Defense and Security in Space » (MS DefSiS). Cette formation duale de haut niveau (BAC+6) civile et militaire, et ouverte à l'international vise à former des cadres civils et militaires ayant une vision intégrée de la sécurité des systèmes spatiaux dans les opérations spatiales civiles ou de défense.
Les compétences développées dans le cadre du MS® DefSiS permettront d'accéder de façon privilégiée aux domaines de l'analyse et du conseil au sein d'industries, d'organismes gouvernementaux ou de cabinets liés au fonctionnement et l'utilisation des systèmes spatiaux civils et militaires dans leur dimension sécuritaire.
Cette expertise pourra notamment être employée dans le cadre de la recherche ou du développement d'un programme spatial, de la mise en œuvre et de l'emploi opérationnel d'un système spatial ou encore de l'analyse, la prévention, le suivi ou la gestion de crises.
Plaquette PDF du Master DefSis
Retrouvez ci-dessous une plaquette en PDF qui présente en 3 pages le mastère "Defense and Security in Space" de l'École de l'Air et de l'Espace (EAE)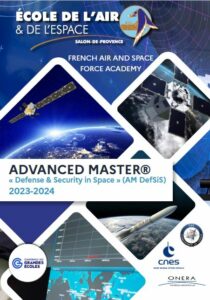 Présentation du master DefSis en Vidéo dans le Journal de l'espace
Pour en savoir plus
Les inscriptions pour la promotion 2023-2024 sont ouvertes. Pour en savoir plus, retrouvez toutes les informations et modalités d'inscription (Dossier de candidature, Demande de Bourses) sur le site internet de l'école de l'air et de l'espace.