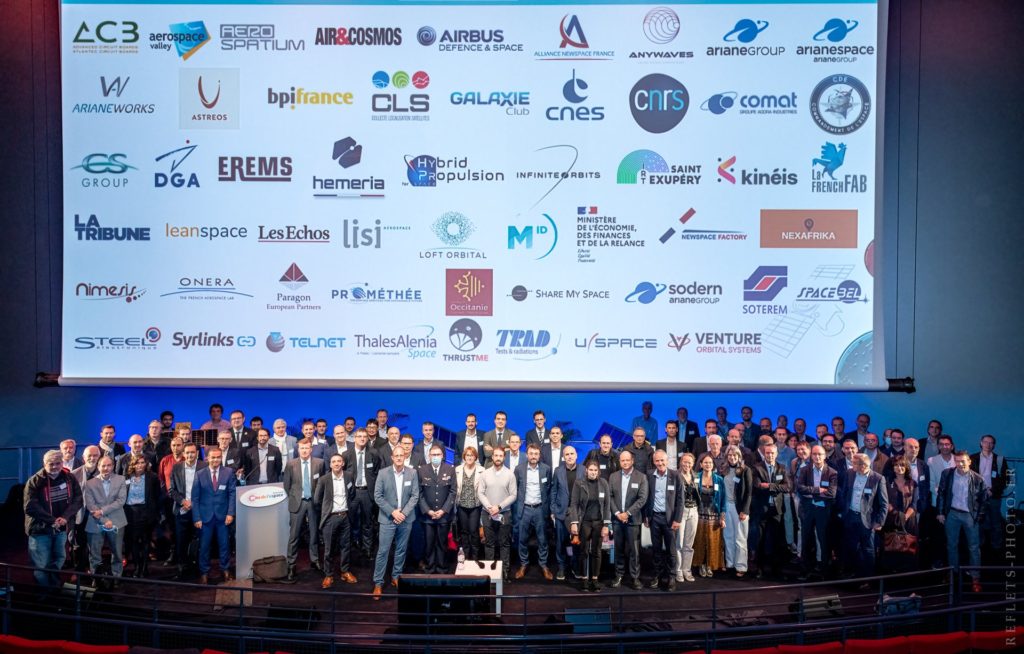 Après, l'alliance des entreprises françaises du newspace sous le nom de "Alliance NewSpace France", au tour de l'écosystème français des smallsats et des nanosatellites de se réunir.
C'est ce qu'a réussi à faire Hemeria, l'industriel toulousain spécialisé dans la conception, la production et la maintenance de systèmes spatiaux et de défense, en réunissant ce lundi 11 octobre 2021 à la Cité de l'espace de Toulouse, une trentaine d'acteurs français des nanosatellites (smallsats), lors de la "Small Sat Day".
La liste des acteurs présents (clients, partenaires, institutions étatiques, financiers, startups) : ACB, Aerospace Valley, Airbus Defence and Space, Alliance NewSpace France, ANYWAVES, ArianeGroup, ARIANESPACE, Arianeworks, Astreos, Bpifrance CLS Group (Collecte Localisation Satellites), CLUB GALAXIE, CNES, CNRS (Centre National de la Recherche Scientifique), COMAT, CDE (Commandement De l'Espace), CS GROUP, DGA (Direction Générale de l'Armement), Euroconsult, EREMS, Exotrail, Hybridpropulsion, Infinite Orbits, IRT AESE – Saint Exupéry, Kinéis, La French Fab, Leanspace SAS, LISI AEROSPACE, Loft Orbital, MECANO ID, Secrétariat Général pour l'Investissement, Newspace Factory, Nex Afrika, Nimesis Technology, ONERA – The French Aerospace Lab, Parangon European Partners, PROMÉTHÉE NewSpace, La Région Occitanie / Pyrénées-Méditerranée, Share Myspace, Sodern, SOTEREM, SPACEBEL, STEEL ELECTRONIQUE, SYRLINKS, Telnet, Thales Alenia Space, ThrustMe, TRAD, Tests & Radiations, USpace, Venture Orbital System
Hemeria conçoit et fabrique des équipements et systèmes à forte intensité technologique et sécurité de fonctionnement pour deux marchés exigeants : l'industrie spatiale et la dissuasion française.
L'occasion pour Hemeria d'annoncer qu'elle vient d'être sélectionnée par l'Etat et le CNES dans le cadre du Programme d'Investissements d'Avenir (PIA) pour le développement d'une Plateforme nanosatellite.
Plus concrètement, il s'agit de réaliser une plateforme générique, modulaire, multimissions, pour des missions civiles, militaires ou scientifiques d'ici à 2024 dans un objectif de créer une filière française des nanosatellites sur un marché en forte croissance, largement dominé par les Américains.
Les nanosatellites et les smallsats correspondent au marché des satellites de moins de 500 kg qui a explosé en l'espace de quelques années. Près de 14.000 petits satellites devraient être envoyés en orbite dans les dix prochaines années.
Face à un marché concentré autour de quelques acteurs américains, la concurrence est rude pour les projets européens. Il était temps de réagir.
Dernières minutes
HEMERIA vient de rejoindre le GIE Défense NBC en tant qu'acteur majeur et reconnu de l'excellence de l'Industrie Française de la Défense et de la Protection NRBCE (Nucléaire, Radiologique, Biologique, Chimique et Explosifs).
Le GIE Défense NBC a pour mission de promouvoir à l'international les savoir-faire, les technologies, les produits et les services des entreprises françaises du domaine NRBCE.