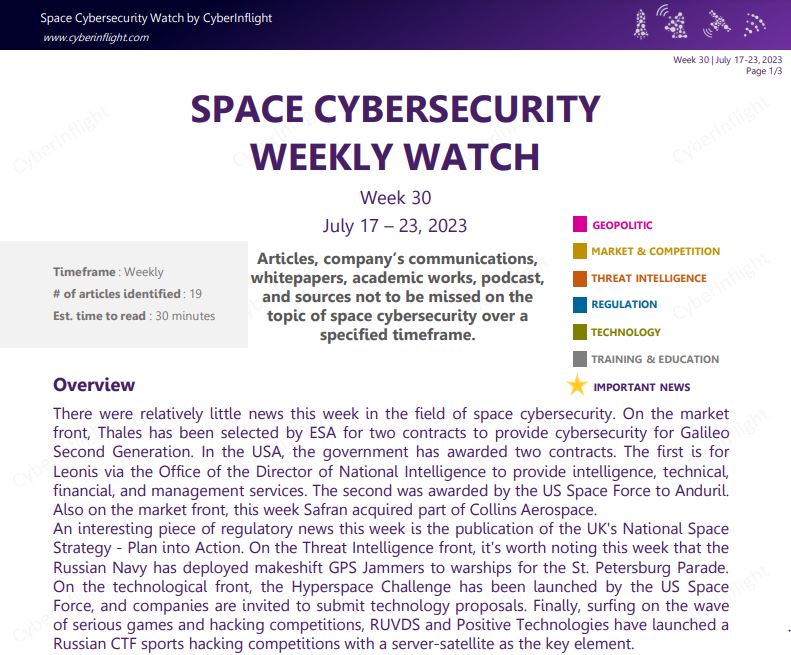 CyberInflight released a new Space Cybersecurity Weekly Watch for Week 30 (July 17 –23, 2023). The team consolidates a weekly watch with all the space cybersecurity news you shouldn't miss.
In this new Space Cybersecurity Watch, you will find 19 articles about company's communications, whitepapers, academic works, podcast, and sources not to be missed on the topic of space cybersecurity over a specified timeframe.
The areas covered by this watch are : geopolitic, market & competition, threat intelligence, regulation, technology, training & education and important news.
Overview of this Space Cybersecurity Weekly Watch
There were relatively little news this week in the field of space cybersecurity. On the market front, Thales has been selected by ESA for two contracts to provide cybersecurity for Galileo Second Generation. In the USA, the government has awarded two contracts. The first is for Leonis via the Office of the Director of National Intelligence to provide intelligence, technical, financial, and management services. The second was awarded by the US Space Force to Anduril. Also on the market front, this week Safran acquired part of Collins Aerospace.
An interesting piece of regulatory news this week is the publication of the UK's National Space Strategy-Plan into Action. On the Threat Intelligence front, it's worth nothing this week that the Russian Navy has deployed make shift GPS Jammers towar ships for the St. Petersburg Parade. On the technological front, the Hyperspace Challenge has been launched by the US Space Force, and companies are invited to submit technology proposals. Finally, surfing on the wave of serious games and hacking competitions, RUVDS and Positive Technologies have launched a Russian CTF sports hacking competitions with a server-satellite as the keyelement.
CYBERINFLIGHT NEWS
CyberInflight team is now proud to be in the contributor list of the SPARTA framework. The last version published on July 18, 2023, adds more than 60 attack references provided by our market intelligence team. Get more info here.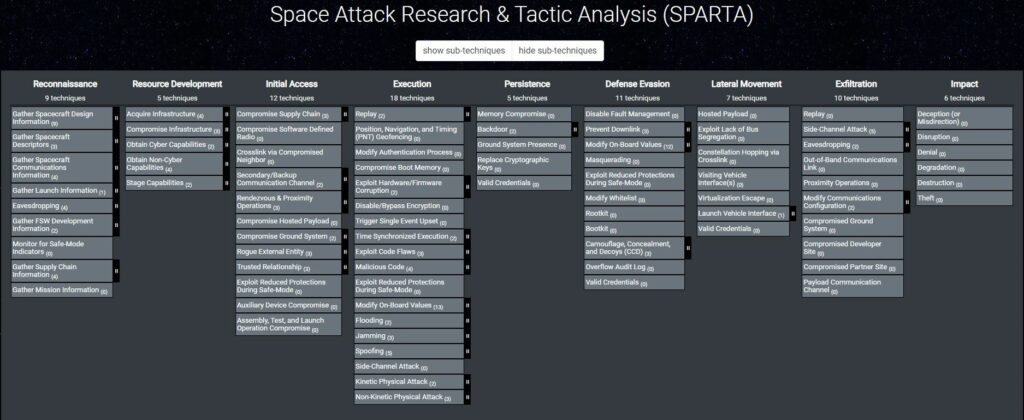 More information
Do not hesitate to register to their weekly watch service !
You can download this Space Cybersecurity Weekly Watch for W30 here.