CyberInflight and Florent Rizzo released their new Space Cybersecurity Weekly Watch for week 15 (April 3-11, 2023)
In this second Space Cybersecurity Watch, you will find Articles, company's communications, whitepapers, academic works, podcast, and sources not to be missed on the topic of space cybersecurity over a specified timeframe.
The areas covered by this watch are : geopolitic, market & competition, threat intelligence, regulation, technology, training & education, important news.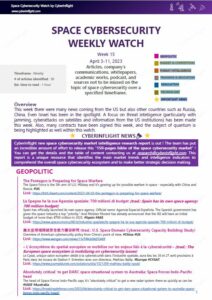 HOT NEWS
At the top of their watch, CyberInflight and Florent Rizzo make a very important announcement :
"CyberInflight new space cybersecurity market intelligence research report is out ! The team has put an incredible amount of effort to release this "150-pages bible of the space cybersecurity market" ! You can get the details and the table of content contacting us. This report is a unique resource that identifies the main market trends and intelligence indicators to comprehend the overall space cybersecurity ecosystem and to make better strategic decision making."
Congratulations to all CyberInflight team for this achievement.
You can download this second Space Cybersecurity Weekly Watch here.